I find using potted plants sitting on my deck makes it a heck of a lot easier to photograph hummingbirds vs a plant in my garden. Some of the benefits are;
I can move the plant as the Sun moves around my house
The ability to move the plant, also gives me a better chance of a clean background
I don't have to run around a plant in the garden trying to photograph the hummer as it sips from each flower on a plant.
In this photo, I captured the hummingbird using a remote trigger for my camera. Remote triggers are cool because it allows me to move out from behind the camera, and eat a bowl of Cheez Nips while waiting for a bird to appear. And BTW, the hummingbird usually appears while I'm playing on my phone LOL.
The camera settings for this shot were: Full manual mode, SS – 1/4000. F/stop 5.6 and auto ISO. I placed the lens in "Manual" focus and focused on the bloom you see the bird sipping from. Using manual focus prevents the camera/lens from grabbing onto something else to focus on instead of where I want it. As I mentioned earlier, using the remote trigger, I'm not sitting behind the camera looking through the viewfinder. I know from experience that when the hummer sticks its tongue in the bloom, his eye and face will be in focus.
As I have mentioned in previous post, I like to use a single flower/bloom when photographing hummers. I find it gives me a nice clean backdrop, and helps isolate the bird from the plant.
Thoughts or questions? Let me know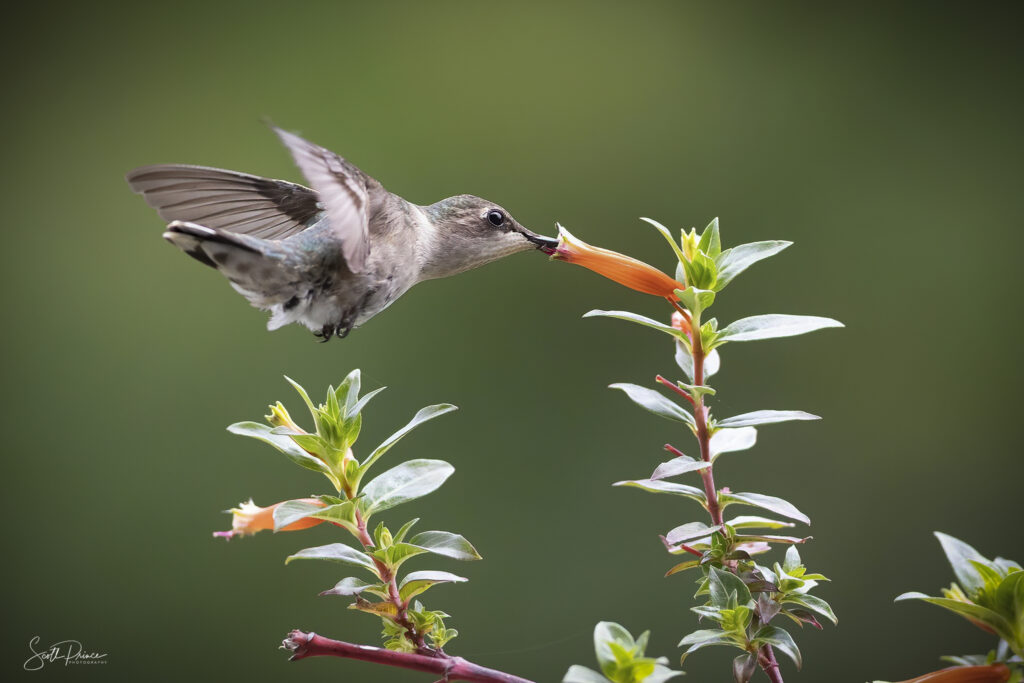 Check out my social channels